3M™ VHB™ Double-Sided Sticky Tape 4910
3M™ VHB™ double-sided sticky tape 4910 replace rivets, welds & screws. Fast permanent bonding method provides strength & long-term durability. Its application is to join transparent material or where the clear or colorless tape is preferred. It is specifically designed for good adhesion to metal, glass, and plastics such as polycarbonate and acrylic. £M 4910 VHB Tapes are made with acrylic foam which is viscoelastic in nature. Hence, this gives the foam energy absorbing and stress relaxing properties which provides these tapes with their unique characteristics. The acrylic chemistry provides outstanding durability performance because of which the tapes have excellent durability and excellent solvent and moisture resistance.
Details
It provides high strength and long-term durability because of fast and easy-to-use permanent bonding.
Virtually invisible fastening keeps surfaces smooth
Can replace mechanical fasteners (rivets, welds, screws) or liquid adhesives for transparent applications
Offers a good balance of strength and conformability because of the general-purpose adhesive and firm acrylic foam core.
Eliminate drilling, grinding, refinishing, screwing, welding, and associated clean-up
Creates a permanent seal against water, moisture, and more
Provides immediate handling strength due to the pressure-sensitive adhesive bonds.
Allows the use of thinner, lighter weight, and dissimilar materials
Dream, Design, Deliver with 3M™ VHB™ double-sided tape 4910. It is a clear, 0.040 in (1.0 mm). 3M tap is a general-purpose acrylic adhesive on both sides of a firm, foam core. Thus replace rivets, welds, and screws. It provides high strength and long-term durability because of the fast and easy-to-use permanent bonding method. It offers design flexibility along with viscoelasticity and powerful ability in order to bond to a variety of surfaces. Thus, 3M VHB Tape 4910 is ideal for situations where a clear attachment method is preferred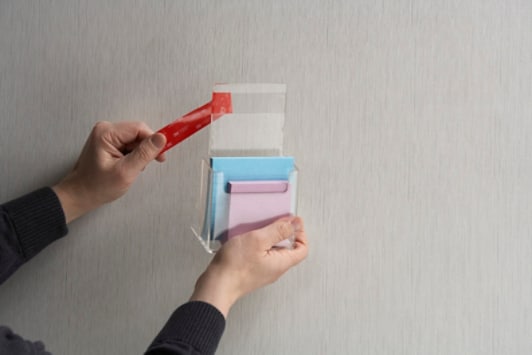 Recommended Applications
Joining transparent material
Mount backlit translucent signs
Edge-bond resin filled glass
Metal, glass, and high surface energy (HSE) substrates
Decorative material and trim
Nameplates and logos
Panel to frame
Stiffener to panel
We are also providing a wide range of 3M™  Tapes.